News
8/30/2009:
The goldRush Rally is featured in the Sep/Oct issue of Heavy Hitters magazine.
The Maserati Gran Turismo and wrapped Cadillac Escalade from the goldRush Rally can be seen in the event coverage by Heavy Hitters. Motorsport Design also helped install the standard graphics package to several other goldRush participants.
7/27/2009:
Auto Concierge Logo Update and Office Signage
A new logo updates the previous design used by Auto Concierge, the Bay Area's premier auto detailer. Window and door signage is also installed at their Fremont office. If you're looking for a concours ready detail, Bob Willis is your detailer.
7/18/2009:
Bell S.P.O.R.T.S. Ferrari F300 Repair
Rear wing and nose damage is repaired on a 1/5 scale (about 3 1/2 feet) replica Ferrari F300 Formula 1 car by Bell S.P.O.R.T.S. of Europe. Bodywork, repainting, and custom printed carbon fiber decals were required to return the model to showroom condition.
6/12/2009:
Mini goldRush Support Cayenne
A 1/18 scale replica of the goldRush Rally Support Cayenne is created.
6/2/2009:
RAWserati & Dadillac prepped for the goldRush Rally
Distressed goldRush graphics installed on the Maserati Gran Turismo of Team RAWserati. Team Sup Wit It's Cadillac Escalade received a partial wrap featuring custom Nike Dunk graphics by world famous shoe designer SBTG.
5/29/2009:
goldRush Support Vehicle Graphic Installed
The goldRush Support Cayenne receives it's graphics for the upcoming goldRush Rally to Las Vegas.
3/30/2009:
Custom 1/43 Porsche GT2
A 1/43 Porsche GT2 model was converted and mounted on a personalized carbon fiber base for M-A Carbon. Before and after pics can be seen on the Services page.
3/12/2009:
Scud Missile in Maxim Espaņol
MTK's 430 Scuderia is pictured in Maxim Espaņol's Gumball 3K article. See the Media page for more info.
2/4/2009:
New Business Partner
Welcome ItzKirb Photography. For all of your photo needs, Kirby is the man! Check the links page for more information.
12/14/2008:
MTK's Carbon Helmet
Silver 430 Scuderia stripes and L4P visor strip applied to MTK's full carbon fiber HJC helmet.
10/14/2008:
TT Competizioni Crew Shirt
Check out TT Competizioni's new two color crew shirts on the products page.
8/20/2008:
430 Scuderia Update
MTK's 430 Scuderia graphics were updated for the Concorso Italiano.
8/14/2008:
Ferrari 430 Scuderia Graphics
Full body graphics applied for the Gumball 3000 Road Rally from San Francisco to Beijing, China.
6/26/2006:
Flying Lizard ABSS Now Available
The display features the signatures of Johannes van Overbeek, Seth Neiman, and Lonnie Pechnik. It's limited to 50 pieces, and includes a 1/43 #80 Flying Lizard Porsche GT3 RSR from the 2005 24 Hours of Le Mans.
6/20/2006:
SharkWerks "white car" Project
New SharkWerks graphics are being designed for their project "white car". Keep on the look out a track near you.
2/15/2006:
Rollovers added to various images to show before and after versions.
2/7/2006:
Motorsport Design launches beta website with increased content.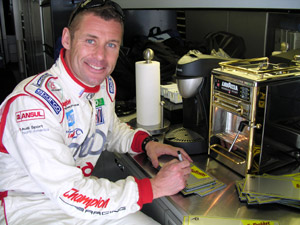 8 time Le Mans winner Tom Kristensen during an AutoBarn Signature Series session.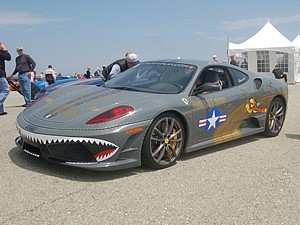 MTK's updated Ferrari 430 Scuderia at the 2008 Concorso Italiano. Red headlight covers, USAF Stars & Bars, and other misc. decals are some of the changes from the Gumball 3000 Road Rally ran the previous week. The car is decaled, not wrapped, and includes over 2,000 individual rivets.
Matching Scuderia stripes and a Luxury4Play.com visor strip applied to MTK's carbon helmet.